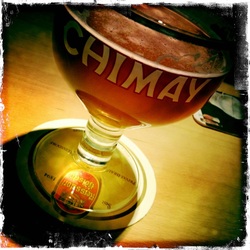 This new venture we're building all came to a head with a picture…a picture of beer! Chimay White to be exact. I lived in Columbus for nine years and my favorite watering hole offered Chimay White on draft. This greatly pleased my cousin when visiting. However... it drove her crazy when I would taunt her with pictures, as I could enjoy it much more often... but I never stopped sending the photos, it kept us connected.

Fast forward a few years and she was almost a year into her first, and six months into her second business (a construction company... don't ask..) and I am living in Maine. I wander down to the best, beer bar in Portland and there is the White on draft. So I take a picture and send it to her, as usual. This time I was greeted with an unexpected response.

"I wish you were here, because I have an idea."
"Hit me", I replied, "I'm just spinning my wheels here."

Olive was going great and it was time to take it to the next level, she had a plan for a shop across the street that would complement and fill the space problems running a full service restaurant out of an 800 square foot diner can create. The new storefront would be a carry out beer and wine shop, with 15-20 microbrews on tap, to carry out in growlers, have a community/lounge area for her guests to wait for a table at her place across the street and double as a catering space, overflow, etc., but she wanted it to stand alone as well, and hopefully be a thriving, separate business. With two businesses already underway, she wanted a partner and someone else to manage it and with craft beer being my primary hobby for the last five years, she wondered if maybe, I'd consider coming home to run the shop.

So, thanks to my habit of teasing her with photos of beer, an idea was shared, I came home, and now we are working together to create this place so we can both do what we love.

lesson: share your beer... it can open strange and wonderful doors....

Cheers!